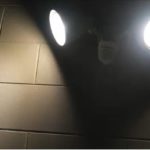 As mentioned in my post Bad Guys Don't Like Light, darkness is a bad guys best friend, the last thing they want is to have a light turn on, or for that matter a dog bark, both of which are a signal that something is going on and bad guys don't want anyone to know something is going on.

The RAB Super Stealth 360 motion sensor  with Hyperikon PAR38 LED bulbs proves my point. These suckers light up the darkness and no bad guy wants that to occur.
If you are looking for great motion sensor security lights for around your home or business, check out the RAB Super Stealth 360 motion sensor.
https://www.youtube.com/watch?v=KJL3VhsIqSw