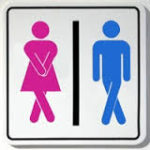 Nobody wants to talk about incontinence or incontinence products, it is just not a pleasant subject no matter how you look at it. After all, incontinence is the inability of the body to control the evacuation functions of urination or defecation.  There see, who wants to talk about that?
Fact of the matter is, more than 13 million people suffer from it and WebMd says that women are more than twice as likely to suffer from it than men.  As we age, we are more likely to suffer from not being able to control our bladder or even bowels, no not a pretty site. Even less of a pretty site if you have nothing available to capture this loss of control. (I tried to say that as politely as possible.)
It's Embarrassing
This topic is so personal that very few people who suffer from incontinence will tell anyone, and some are so embarrassed that they will not see to purchase any type of products. I had an uncle that suffered from this and he just would not by any product in the store, he used a towel to catch things and you can just imagine how messy and smelly that got.
This is why, we need to be adding incontinence products to our preps. Maybe for ourselves, but certainly for those who are elderly and aging. It will save them the embarrassment of having to buy something. It will also be a much healthier way of keeping those bodily fluids contained.
What Should I Have?
Some of the products I recommend building a supply of are:

The time to get these products is now when, one you may not need them and two they are available. If there is some sort of disaster, these items will not be readily available and if they are they will be very expensive.
Part Of Life
Isn't it funny how we have no problem getting these type of things for a baby, but all of a sudden when we become an adult it is a topic no one wants to talk about. Sadly though this is a topic of reality and one that needs to be talked about and planned for.
Let me know what you think, are you stocking up on incontinence products? Have I left anything out?