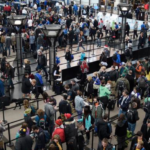 Most of us have to fly at one point or another. Personally, I do what I can to avoid flying since I feel the screening process is totally inefficient and violates a portion of my rights. I don't believe anyone should have the right to put their hands on me if I truly am not a suspect in some form of a crime. Flying is not a criminal act, but I digress.
As of late there has been much talk and videos regarding the wait times at many airports around the United States. Anytime you have a large number of people, gathered in tight quarters or long lines, the risk of civil unrest increases. Your risk of personal injury increases, even if it is just in the form of catching a cold or some other illness from all those strangers standing around you.
Here is a list of how to avoid being trapped in a TSA security screening line:
Travel at off times
Now by this I am not just talking about holidays, that is fairly obvious. Also consider not traveling during the summer months or during spring break.  Most people take their vacations when the kids are off school.  Take the kids out of school for a week, get their homework and use an off time to take a vacation and home-school the kids for that week.
Don't travel on Monday's, Friday's or Sunday's. These are peak traveling days for most. If you can get a flight on any other day, your wait times in TSA lines will be much shorter.

Smaller Airports To Avoid Long Screening Lines
Consider driving to a smaller airport.  Many times sites like AAA will not post travel rates or discounts to flights that are at smaller airports so you may have to do some digging.

For example; flying in and out of Orlando International Airport, MCO, will be very busy due to Disney and other theme parks in the area. What few people know is that about 45 minutes north of OIA is a smaller airport, Orlando Sanford Airport, SFB. Many times you can get a direct flight from a smaller airport in or near your town to OSA. Wait times are near zero when it comes to TSA screening. So you may have to drive an extra 45 min to an hour to get to a smaller airport, but isn't that better than standing in a TSA screening line for an hour or two?
Don't Fly
Ok, I know there are times when you have to fly, but if you can avoid it. Plan a bit and drive. If you live in Atlanta, GA and need to travel to Jacksonville, FL for a business trip, take an extra couple of days and drive. Get yourself out of the office and relax a bit, enjoy the scenery of the drive. I know this may not always be feasible but it is always an option.
These tips are not so much about saving time or even money, it is more about decreasing your security risk as well as peace of mind. I do whatever I can to avoid crowds for safety reasons.
Question Of The Day
What do you do to avoid long lines at the airport?