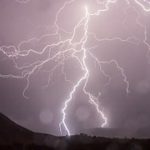 Today I woke up to this loud annoying noise…it was the weather radio alert, after that nasty tone stopped, an automated voice stated there was a severe thunderstorm warning for my area.  A severe thunderstorm warning means that a thunderstorm is imminent, it is occurring or about to occur.  It means that there will be severe winds, gusts could be 50 MPH or greater. With wind like that, trees and power lines could be brought down. Large hail is possible, quarter to softball size depending on the storm.
I turned on the TV only to hear the weatherman making a recommendation to stay indoors, stay off the roads and to keep the kids inside, this was no time to be out waiting for a school bus. Needless to say it was a bit scary to get woke up like that, but, it was very good to be informed of the impending weather situation.
Severe Weather Could Happen At Any Time
Severe weather could happen at any time. Most of us don't think anything about those weather warnings because, let's face it, most of the time it is just a bad storm, sure, there may be some leaves and small limbs blown down, maybe you are without power for a short period of time, but normally it is no big deal….until it is.
13 Weather Tips & Preps
This is why it is so important to prepare for severe weather before it happens and know as far as possible in advance that it may happen. Here are 13 tips and preps for being prepared for severe weather before there is a severe weather warning.

Have a good weather radio. You need to have a weather radio in your bedroom, one that will wake you up and will verbally state what the warning is. You will want one that is programmable so it will only make an alert tone for your area or county.
I also recommend having a weather radio in your main living space, be it the kitchen or living room. Plus, it is a good idea to have a light indicator/strobe attached to the weather radio so that in case you missed the alert tone due to not being in the room, or if you or someone in your home is hearing impaired you will see there is a severe weather warning from the flashing light.
I believe in having everything in two's, remember one is none and two is one. So it is a good idea to also have a good weather app on your phone. One that is either from your local news channel or one that can be programmed for your specific area. We all have our phones with us all the time, having a weather app  on your phone will be very useful when you are out and about, shopping or in the office. I have an Android phone and use MyRadar Weather Radar, you can find it in the Playstore.
Don't just rely on a weather alert, keep watch on the news or even monitor your weather app through out the day. It is a great idea to watch the morning weather report to get an idea of what the weather predictions are for the day and even the week.  Most of the time severe weather is expected before it hits. (you may think this is pretty obvious, however, I have friends and relatives who do not pay attention to the weather and have been out and about and "caught by surprise" when a storm hits.
Always have a good shelter in place bag with you at all times. Severe weather could just be so bad that your best option is to stay where you are until the storm passes. You never know where you might be or how long the storm may last, so why not plan ahead to be as comfortable as possible and not "feel" like you have to get on the roads to get home. With a shelter in place bag you are all set to do just that.
Have a good communication plan with family and friends. People feel less panicked when they know what is going on. It is very important to have a plan on how to get a hold of loved ones. Remember voice services may be down. You may be able to text.  You may be able to get a call out of the area rather than in the area, have a plan to call someone outside the area and leave them a message.  Have all the family know they need to call Aunt Jennie (or whoever) to get updates.
Have some good rain gear with you at all times.  An umbrella will do you no good in high winds. Be sure to have a bright colored rain coat and even a set of rain pants. It is important to stay dry, especially if the temperature starts to drop.
Prepare the kids. Their minds are like sponges, and weather is really a very exciting topic. The more they know about it, the less scared they will be during a storm. A great book for kids on weather is , by National Geographic for Kids. It has great pictures and is written very well to keep their attention. I highly recommend it.
Don't forget the pets, some get so scared during a storm and it is important to keep them calm too.  I have a cat who is terrified for a thunderstorm. I have tried a thunder shirt for her but she would prefer to just sit close to me and be hugged a bit. A good friend of mine has a thunder shirt for her dog, he the dog loves it, calms her right down during a storm.
Make sure that trees that are close to your house and trimmed so that no limbs are hitting the house. Remember limb and branches get heavier when wet so that may make them hang lower. A wet branch hitting the roof over and over again during a storm can rip shingles off the house.
Keep the gas tanks full in the car or truck or as close to it at all times.
Always have enough food and water in the house for each person for at least three day.
Make sure you have working flashlights or lanterns and batteries. I don't recommend candles, as they can cause fire if tipped over, you don't need that.
Let me know what you think.  Have I missed anything in regard to being prepared for severe weather?