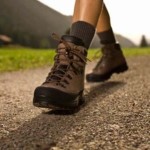 Disasters.   Sometimes you get warning, such as a big snow storm or hurricane approaching.  Most of the time they come as a complete surprise with little to no warning.  Think of the Boston marathon bombing….no warning at all.  What about a natural disaster like a tornado, very little warning or time to prepare.
One thing I have noticed while watching the news coverage of these tragic events is the type of shoes many women are wearing.  Well, shoes may be a very strong term, more sandals and flip flops, rather than shoes.
Imagine being caught in one of these tragic events and having your foot nearly bare.  No protection against nails or other dangerous objects that could be on the ground after a storm or other destructive event.
To be fair, most of us won't be in a serious disaster, thank God. However, what if your car breaks down and
you have to walk several miles? Will a flip flop give you enough foot protection and comfort for a long walk, for me and my feet the answer is, no, not at all.

What if, you are in danger and need to run away from someone or something to save your life, could you do it fast enough in sandals? Sure you may think, "I will just kick them off and run in my bare feet".  Really?  With all the dangers on the ground, nails, cut glass, stones, etc., you wouldn't last long without getting a serious foot injury.
I believe in always being prepared, at least as much as possible.  Part of that preparation is always wearing the right shoes.  What are the right shoes?  A shoe that fully covers your foot with no heal, similar to an athletic or hiking shoe.  I also recommend always having on a good pair of socks.  Protect your feet as much as possible at all times.  Be it a good solid leather athletic shoe, hiking shoe, or other full leather shoe.  At work and church, where you may be in a heel or pump type shoe, always, and I mean always have an extra pair of shoes that you can get to and change into if necessary.  I keep a pair of hiking shoes in my vehicle at all times as well as a couple pairs of socks.
Besides the comfort factor, a good pair of shoes can protect you from dangers on the ground that flip flops cannot.  Having on a good solid pair of shoes also allows you to be to be a help to others in case of disaster rather than needing help from someone to carry you away from a debris.
So each morning when you get dressed, think about your shoes and insure you have the right shoes on, or with you at all times.  It could save your life, and it just may save you from a sever foot injury.