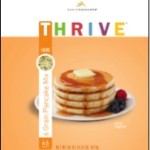 Last October I received a letter in the mail about a recall on Thrive Foods six grain pancake mix. I set it aside in a pile of mail to "deal with later". Well, last week I finally got around to looking into it.  I realized that I had actually been notified in August via email but missed that message totally.
So a couple of weeks, I started looking into it.  I know I had donated a whole like of food to the church many months back.  I checked in with the church and the assured me all that food had been used up months ago.  The good news is the recall had nothing to do with food quality, the pancake mix was safe to eat, but it for some reason was making the cans swell.

Still I wasn't too concerned, once I realized the church didn't have any of the cans left I again set it aside in my mind.  A few days ago, I was going through my pantry, and guess what I found in the very back corner?  You guessed it, a #10 can of Thrive Foods Six Grain Pancake mix, and wow was it all swollen up, scary swollen. Now with a rapid response I promptly disposed of the can and by the looks of it not a moment too soon.
My point is, I should have known I had that can.  I thought I was aware what food I had in my pantry, well, I didn't.  It was a great lesson that I and you should properly inventory what you have, be it food, medical supplies, seeds, or self-defense supplies.  Not only should I be inventorying what I have, but I now realize how important it is to insure what I have is properly rotated. Even if I didn't know what I had, if I would have been properly rotating my food cans I would have seen that can was getting swollen months earlier.
Lesson here is inventory and rotate on a weekly or at least a monthly basis.