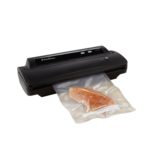 We all know that vacuum seal food savers are fantastic for saving left overs, however, vacuum seal food savers and the bags can be used for far more than just saving food, and are a must have item for any household but especially for someone who prepares.

Here are just a few ideas that you can use a food saver for:
Storing left over foods and cheese (yes, that was the obvious one)
Left over chips and bagged snacks, you can vacuum seal the original chip bag and the remaining chips stay nice and fresh
Cutting large packages of food such as rice and beans down to smaller portion size bags.
Ammunition, good way to keep ammunition air tight as well as dry.
Dried foods, perfect for use with a food dehydrator, you can dry out frozen fruits and vegetables and then store them in a food saver sealed bag.
Pictures, actually my first choice is to scan them into a computer, and save them on a second drive but, if that isn't possible, sealing them in a vacuum seal food saver bag keeps the safe from water damage.
USB flash drive and portable hard drives
Important papers like car titles, home deeds, insurance papers, marriage licenses, passports, etc.
Powered drink mixes, I usually purchase powered Gatorade in a large can and divide the powder into signal serving vacuum sealed packs. It is much cheaper than purchasing the single servings.
Flour and sugar – Cutting those five pounds bags into smaller sizes stores easier and is easier to use as well.
Medical supplies, make a little medical kit and keep it dry.
Matches
Making your own push up frozen pops, think how much healthier it is to freeze your own home made smoothie instead of buying that frozen Kool-Aid push up pop from the store, and the kids will love it!
What do you use your vacuum seal food saver for?