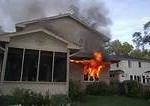 Fire. No one wants to be involved in a fire, however, like with all things, it is best to have a plan in place in case you are involved in a fire than be in a fire and have no idea what to do or how to get out.
The plan in regards to a fire is to insure you have as many measures in place as possible to avoid the occurrence of a fire in the first place, you know an ounce of prevention.  This post focus is really on having a plan in case of a fire, so please check out 18 Tips For Fire Prevention.
Fire Detectors
Be sure that you have working smoke and carbine monoxide detectors in your home.  I actually have three, one near the bedrooms, one in between the kitchen and laundry area and one in the garage.  Test them twice a year at least, during your fire drills and insure they are vacuumed out and clean. Replace the battery in them once a year before they start chirping (have you ever noticed the battery only goes bad at 2:00 in the morning on a Saturday night?)
Educate The Family On The Openings
Be sure everyone in the household knows how to work window locks, and door locks; nothing would be worse than getting to a potential escape opening and not be able to open it.
If you have a two story home, be sure the second story rooms have an escape ladder.  I had one of these when I had a two story home, that way if I had to I could open the window, hook the ladder to the opening and climb down.  I practice it, it wasn't too hard to use, but I was glad I practice with it.
Have a fire extinguisher in every room, you may be able to put out a fire with it, but more importantly, you may need it to break down the fire to get to your escape path, say the window.
Escape Plan From The Home
You need to have a fire escape plan to get out of your home.  Just as the kids in school and even us adults do at work, have a home fire drill.  Have one everyone three months at first then once the family gets practiced and areas in which you need to improve you can do the drills twice a year.  Be sure to time the drill, get everyone out in a matter of minutes the faster is better, and don't forget the pets; they are part of the family.

Practice different scenarios, have the mock fire in different places in the home so the family knows different ways to exit the house.  Do the drills at different times of the day. I remember when I was attending college, I lived in the dorm and one night we had a fire drill at 2:00am and it was in the 30's outside.  Another time we had a drill on a Sunday afternoon and it was raining out.  I mention this because regardless of the weather, carry out your fire drill.  A fire won't just happen in good weather.
Once outside and safe, make sure you have a central location planned to meet up and do a head count, it should be near your home but far enough way from the house to insure everyone is safe from the fire.
Know How To Use A Fire Extinguisher
With a well laid out exit plan, it is also good to practice putting out small fires, I hesitate to mention this because you don't want to get caught in a fire fighting mode of thinking you can put it out and not realize that the fire has gotten too large.  First things first get the family and pets out and call 911.  Second as an adult you may be able to put the fire out if it is small, just know, fire can spread fast, very fast, smoke builds up fast and fumes, sometimes toxic fumes can cause you to become overcome rapidly, so if you can't get that small fire out in a minute or if it is spreading from a localized area that is larger than a small waste paper basket, get out and let the professionals take care of it. Your life is far more valuable than stuff.
Make sure the whole family knows where the fire extinguishers are and how to use them.  Check with your local fire department they would be more than happy to teach you and the kids how to properly use a fire extinguisher.
As with all things, having a plan and practicing the plan will help everyone react appropriately and rapidly if a fire ever occurs in the home all while insuring the household is always practicing fire prevention in the home.
Most importantly, I am not trained fire prevention professional.  I am an individual who looks at all possible forms of disaster and attempts to prevent them and plan what to do in case a disaster happens.  In addition to my thoughts above, I recommend you each out to your local fire department for more tips and even a fire prevention review of your home.