Today's guest post is by John Brown, founder of The Tactical Knives.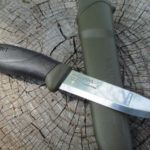 This is the quintessential modern Mora and one of the most popular fixed blade knives of all time for good reason. This blade offers all the versatility and durability we've come to associate with Mora's brand, all placed in a convenient fixed-blade format that can stack up to any blade in the world in terms of utility and design. Whether you're in need of a camp knife, a hunting knife, a blade for your next fishing expedition or something else, the Mora Companion has what you need at a ridiculously low price for the quality.
Specs
There are several versions of the companion, but we're focusing on the MG (military green) and the newer HD (heavy duty) versions. On the surface, the standard MG and HD models appear almost identical, but the HD is a thicker blade and has a bit more heft in the grip.
Like many of Mora's other options, the Mora Companion fixed blade outdoor knife combines a high-quality steel blade with a plastic handle. This gives you one of the lightest fighting knife design on the market, and because the company uses high-grade plastic polymer for the handle, you get excellent durability at the same time.
The blade is manufactured from high-quality Sandvik stainless steel and is 4.1 inches in length. The entire knife is 8.6 inches long, with 4.5 inches of handle and a total weight of just 4.1 ounces. The blade offers excellent hardness, and because of the chromium used in the steel blend, it resists corrosion and rust. Because of this, the Mora Companion is an excellent choice for uses in the marine environment, where salt and water exposure can corrode a blade very quickly. However, it's also good for use in hunting and freshwater fishing, where exposure to moisture can damage a knife.
As a note, the Companion MG Carbon is a variant model that does not use stainless steel. Rather, it is manufactured with high carbon steel that offers a better hardness, but is more susceptible to corrosion and rust, and will require more maintenance to protect it from those threats.
Design
In terms of design, the Mora Companion's blade is similar to the company's Craftline Q Allround and features a short, straight blade with a clip point and a fine, straight spine leading up to a brief drop to the blade's point.
The Mora Companion fixed blade outdoor knife offers a textured handle for a secure grip, and the knife comes with a sheath that matches the handle's color combination. Several color options are available from Mora, including military black and green, all black, black and orange, black and blue, and black and magenta. The sheath includes a built-in belt clip, so it can be worn on a belt, or clipped to a pocket for easy transport. The sheath also features a drainage hole at the bottom, so any moisture retained on the blade or that enters the sheath will drain out when the knife is upright.
What Is the Mora Companion Fixed Blade Outdoor Knife Good For?
When it comes to versatility, you can't get much better than the Mora Companion fixed blade outdoor knife. Its blade design makes it equally at home as a utility blade or doing finer work. It can gut fish with as much ease as it can cut vegetables or cut through rope. The durable handle material also ensures comfort in all situations. From serving in the camp kitchen to use out in the field, the Mora Companion is an excellent choice that will be part of your kit for years to come.
Mora Brand
Mora, better known as MORAKNIV, is a Swedish knife maker that has a long, long history. The company uses some of the finest steel blends available on the market (all from Sandvik) and creates some of the most durable knives available. Mora's offerings run the gamut from survival knives to steak knives, utility knives and everything in between, and all offer the company's unique blend of versatility and durability.
If you feel our Mora Companion Fixed Blade Outdoor Knife Review has missed anything, feel free to drop us a line in the comments below.
Author Bio:
John Brown is a professional knife enthusiast, geologist as w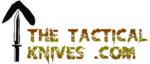 ell as the founder of The Tactical Knives blog, which features tactical, combat, pocket, EDC knives reviews and tips articles.